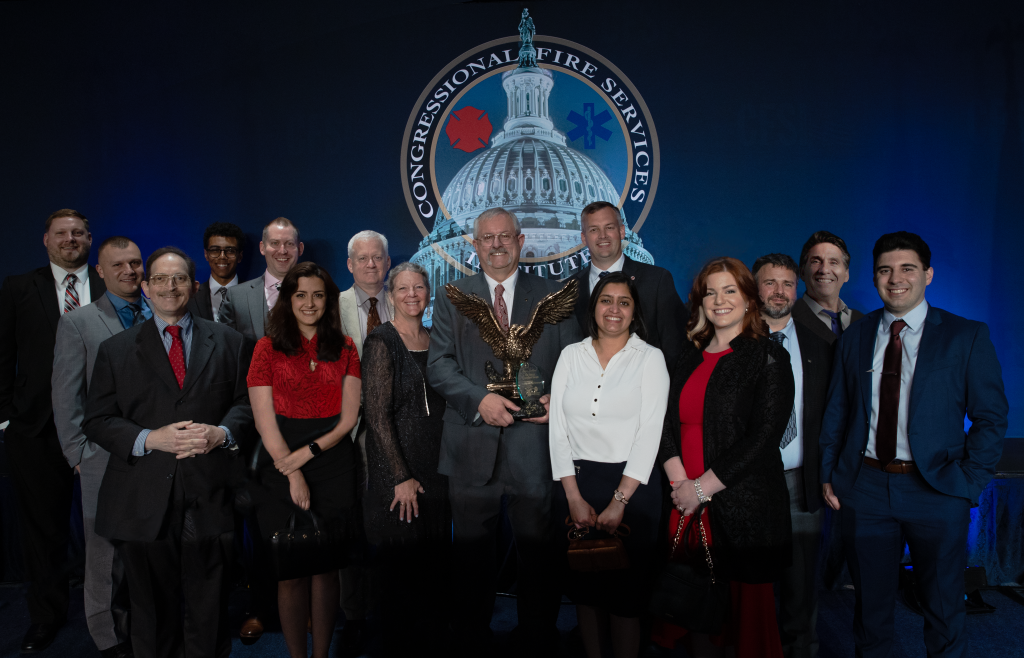 FSRI Senior Director of Research Awarded the Mason Lankford Fire Service Leadership Award
May 23, 2023
Dan Madrzykowski, Senior Director of Research at UL's Fire Safety Research Institute (FSRI), was proudly announced the recipient of the 2023 Congressional Fire Safety Institute (CFSI)/Motorola Solutions Mason Lankford Fire Service Leadership Award. Jointly sponsored by CFSI and Motorola Solutions, the Mason Lankford Fire Service Leadership Award recognizes exemplary leaders in public safety for their work to improve the delivery of the fire and emergency services in the areas of prevention, mitigation, and response.
Dan has co-authored over 85 technical reports, handbook chapters, and book chapters, and has delivered presentations at major conferences in the United States and abroad. Dan is widely respected throughout the fire and emergency services for his contributions to research in the field of fire protection that spans over 35 years. The results of his work have led to pioneering advancements in firefighting practices, as well as adding to the base of knowledge for improved fire investigations and fire suppression systems that protect the built environment. Dan has recently published a Research Report titled Analysis of A Near Miss in a Garden Apartment Fire - Georgia 2022, which was co-authored with Jason Floyd, Research Engineer at FSRI.
"Thirty years into his career, Dr. Madrzykowski remains both a student and a teacher in the field of fire dynamics in structures. His desire to learn more and to share his knowledge with the fire service community continues to push the boundaries of how firefighters safely train and respond to structural fires. CFSI is honored to recognize Dr. Madrzykowski with this award for his significant contributions to research, innovation, and education. His contributions in these areas have profoundly impacted the health and safety of our nation's firefighters and the communities they protect." - CFSI President Jim Estepp
Prior to joining the FSRI team, Dan has had more than 32 years of experience working to improve fire safety by conducting research and development in areas of fire dynamics, fire test methods, fire control, and fire investigation. He is a member of the NFPA, ISFSI, and is a Fellow with the SFPE. Dan holds a doctorate in fire engineering from the University of Canterbury as well as a Master of Science in fire protection engineering from the University of Maryland.
Read his full bio here.